Grace Farm Studios Brings Woodstock Back to Nature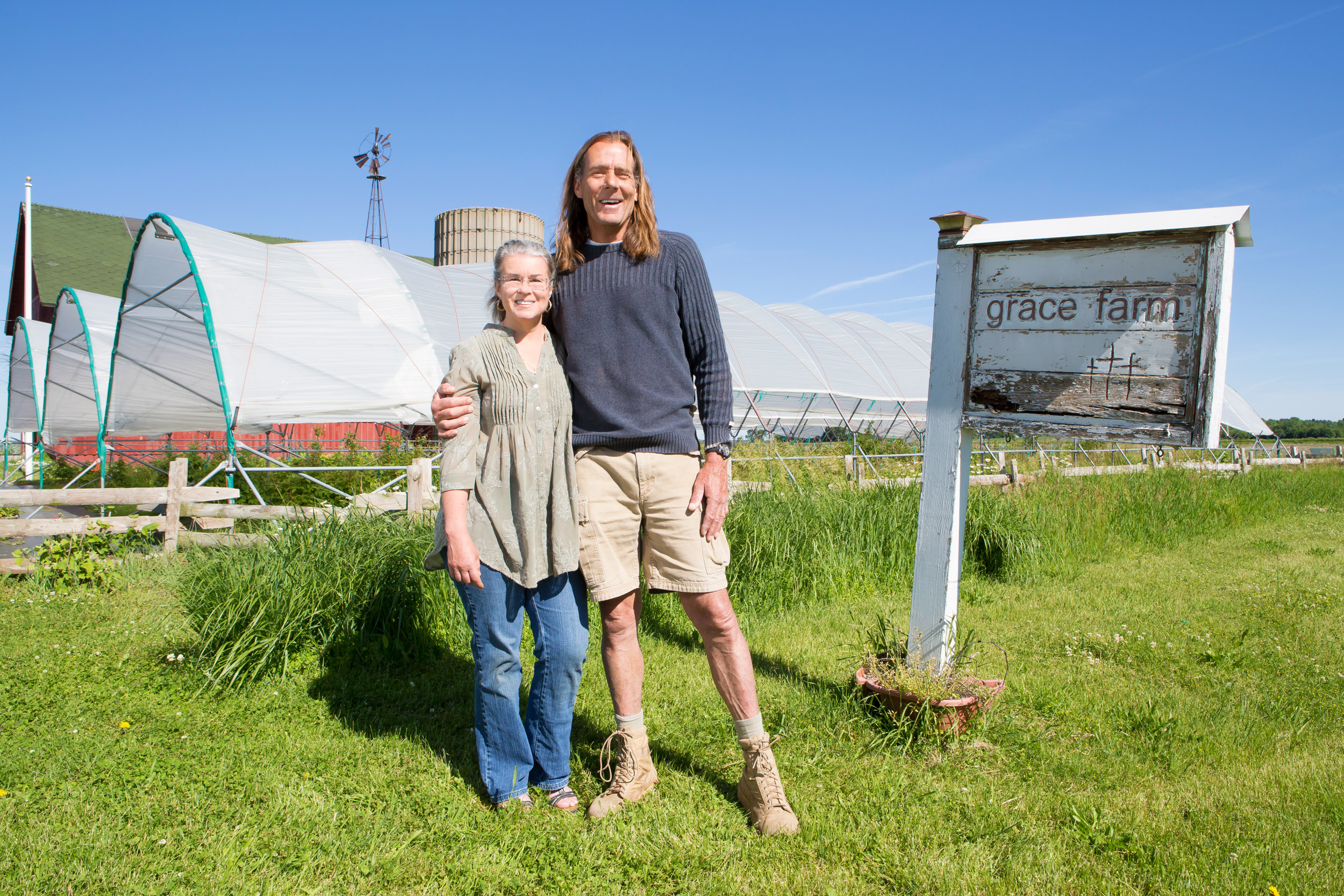 One is a surfer, the other an attorney. One is a craftsman, the other an artist.  Both are now farmers.
It's been about fifteen years since Mike and Ann found their three-acre farm–complete with a circa 1851 farmhouse and barn–and settled into a small town, rural way of life.
Today, "Farmer Mike" and "Farmer Ann," as they're known by their customers, own Grace Farm Studios, an organic u-pick berry farm that encourages visitors to relax and connect with nature.
Ann, the attorney, is originally from North Carolina.  Mike grew up surfing in Virginia and built custom homes. The two met and married in Chicago, "spending a fortune on rent," according to Ann, in Wrigleyville, until they discovered the restful countryside of McHenry County and Woodstock.
Visitors to Grace Farm are treated to a relaxing, back-to-nature experience just five minutes from the historic Woodstock Square. "We grow more than berries," says Ann. "We promote conservation with our farming practices. We try to complement – not compete with – our neighbors and fellow farmers."
Adds Ann: "People want to be more in touch with the whole of nature. They don't come here to just pick a raspberry."
Working with grant funding from the USDA's Natural Resources Conservation Service, Mike and Ann developed a formal "conservation plan" that intentionally preserves features of the savanna prairie, such as the farm's rich soil, native grasses and forbs, wildlife habitat, and groundwater. "We have implemented a comprehensive integrated pest management plan, a really refined plan, which essentially is at the core of the farm and has become a destination/business driver in itself," says Ann.
The 2009 NRCS grant allowed Grace Farm to pilot test high tunnel raspberry production.  The three-year pilot test was so successful that an additional custom block of high tunnels was installed in 2013. More recently, Grace Farm has invested throughout the property in an "edible landscape" of aronia berries, gooseberries, native hazelnut trees, elderberries, service berries ("saskatoons"), red currants, and small fruit trees. This year, Mike and Ann planted arctic kiwi vines and five varieties of lingonberries, both of which are well suited for the Woodstock area environment.
In addition to farming, Ann creates fiber art using wool from the farm's flock of Icelandic sheep, while Mike designs and builds rustic furniture with locally harvested hardwoods. Both are inspired by the natural beauty of the area and the strong community that took root here in the early 1800's.
According to Ann, five years ago their barn became the first "quilted" barn in McHenry County and was a featured stop on the Northern Illinois Quilt Fest and tour sponsored by the McHenry County Historical Society.  Then in 2012, Ann and Mike hosted the first annual "Rustic Decorative Arts Exhibition" in their barn with Robert Blue and Susan Galloway of Blue Eagle Pottery (just down the street from Grace Farm) and Scott and Sue Csanda of Ohana Farms (on Millstream Road). The 2016 Rustic Decorative Arts Exhibition is planned for the weekend after Thanksgiving at Grace Farm.
Visitors to Grace Farm often bring blankets and picnic baskets to create an afternoon experience. And with the Woodstock Square just a five minute drive from Grace Farm, a day in Woodstock is an easy experience to plan.
"When you come up to our place and get out of the car, you are our guest. You feel like you come to our home and you are welcome here. We are kid friendly. When you are out back you feel like you're in your own private paradise," she says. "There is a limit to our capacity for people and we try to live within that limit. We don't want to be overrun."
Of Woodstock, their adopted home, Ann says that she and Mike have been welcomed in Woodstock. "Woodstock is genuine. Authentic. Inclusive. Forward thinking."
"We love it here."
Grace Farm is open Monday through Saturday from 9am to 5pm and is located at 2719 Franklinville Road in Woodstock. To learn more, go to www.GraceFarmStudios.com.