Woodstock Theatre a Part of Town's "Resurgence"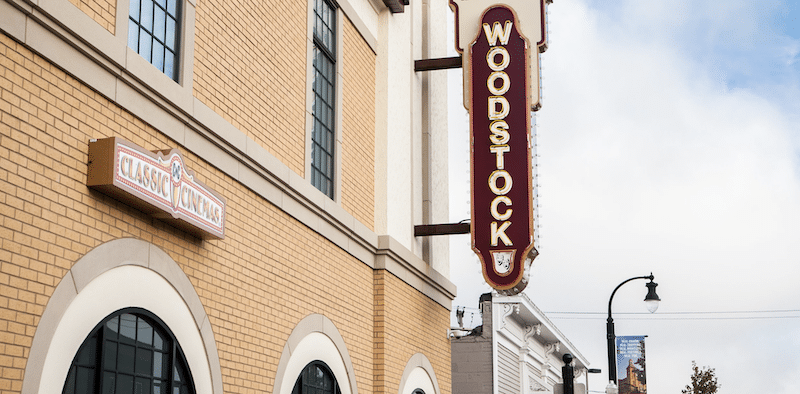 To Willis and Shirley Johnson, The Woodstock Theatre is like one of their children. One of thirteen "children" to be exact, including the Tivoli in Downers Grove, the Lake in Oak Park and the Lindo in Freeport. Like the Woodstock Theatre, they are classic downtown movie houses with charm and character.
Yet, while Shirley says they play no favorites—"That's like asking which of your children you love the most" —it's clear Woodstock and its theater just off the square holds a special place in their hearts.
"Woodstock is coming alive again," says Willis, who bought the theater in 1988 with his wife and son Chris to be part of the Classic Cinemas stable. "It's waking up, and we see the Woodstock Theatre as a key piece of the resurgence of downtown and the Square. You have the bookstore (Read Between the Lynes) doubling its space. New restaurants. And Woodstock is starting to tell people about this special place. You have to do that to grow."
The Woodstock Theatre has eight screens, the largest featuring a resplendent dome—dating from the 1920's–painstakingly restored by the Johnsons. In addition to showing the latest releases, the theater encourages family birthday parties with its dedicated party room along with an 31-seat screening room (or boutique auditorium) complete with reclining leather chairs.
The Woodstock Theatre is also home to "2nd Monday Film Club" which features showings of special art and foreign films every second Monday of the month at 1 PM & 7 PM. The theatre features a large auditorium restored from the original "Miller Theatre" with the historic ceiling dome and several wall treatments. This auditorium was dedicated and named "The Harold Ramis Auditorium" in 2015 after Groundhog Day Director Harold Ramis who filmed the movie in Woodstock (the theatre even makes an appearance as "The Alpine Theatre" in the movie). Every February in celebration of Groundhog Day, the theatre offers free showings of the movie during the city of Woodstock's annual celebration.
"We try to be an anchor for downtown and a cultural hub for the community," says Classic Cinemas marketing director Mark Mazrimas, who notes the theater is available for rent and hosts school groups, businesses and organizations. In November, the Woodstock Theater hosted a special screening of the Woodstock-produced documentary on Dick Tracy creator Chester Gould, who called Woodstock home.
To Willis Johnson, a movie theater is a wonderful blend of economic development, tourism and community builder. "We invite people downtown, and that helps during the day, the weekend and evenings," he says, adding: "Downtown theaters are important. First dates. First kiss. First job. People need to be reminded of that and we need to be champions of downtown."
Though the Johnsons don't live in Woodstock, their energy, passion and excitement for Woodstock shines daily. "We love Woodstock and its charm, history and opportunity," he says. "We're your hometown theater."