Artist up for 'awesome adventure': Mauricio Ramirez of Chicago wins commission for Benton Street mural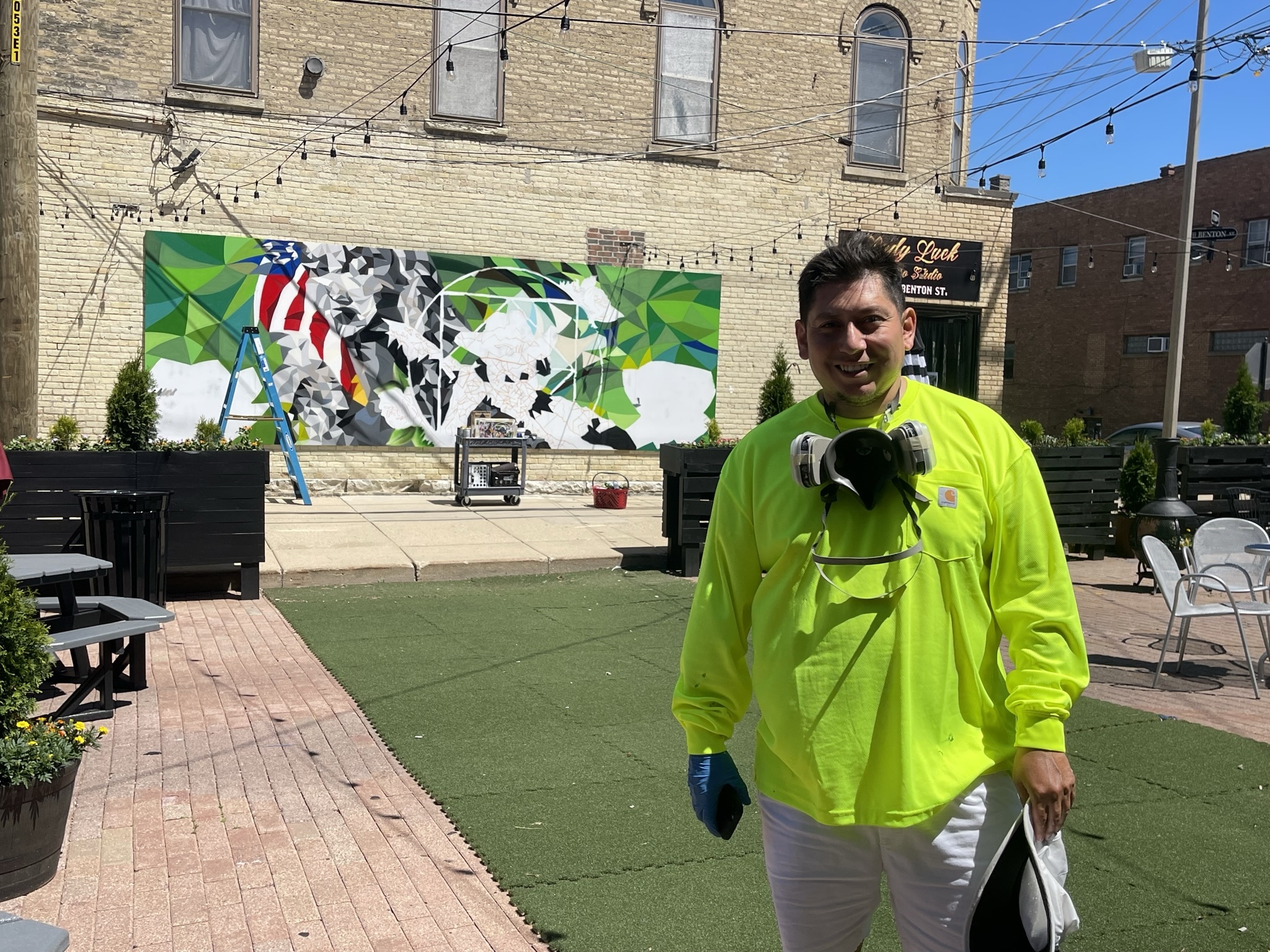 The City Council last week voted to accept the recommendations of Woodstock's Art Commission and city staff members in choosing Ramirez's concept, titled "Made in Woodstock." The design features icons representing the "history and beauty of the Square," Ramirez said in a description that accompanied his submission.
A blue-hatted musician cradling a guitar stands for the town's ongoing musical history, including 130 years of city band concerts.
Pink roses, found here and there in the park in the Square, denote beauty that "bring life, warmth, and charm to the concert season."
A section of Old Glory evokes patriotism next to a greystone statue that is "an inspiration for tranquility and garden beds."
The green in the design points to the grass and trees that "pave the way along the sidewalk, streets, and [Woodstock's] many unique businesses."
"Just like the Square," Ramirez wrote, "the piece brings together aspects from different walks of life to a place of gathering, where culture is displayed and loudly played."
In an interview Friday with The Independent, Ramirez said that every project, with its challenges and memories, is "an awesome adventure."
Completion date TBD
The mural's completion date is undetermined, although Mayor Mike Turner has expressed the hope that the artwork would be finished by mid-summer, coinciding with the height of outdoor dining season on Benton Street.
Ramirez was one of five artists from more than 75 proposals who were asked to submit a design for final consideration.
For his work, Ramirez will receive $12,000 from TIF2 money in the 2022-23 budget.
At its April 18 meeting, the council was prepared to approve Ramirez's selection without a separate vote, until Molly Oakford asked for a separate discussion and consideration.
Oakford objected to the use of TIF funds for the project, suggesting the money could be used to improve downtown curbs and cobblestones to assist mobility for those she sees as clients in her physical therapy practice. She asked why the project was not turned over to Woodstock School District 200.
Communicating as an artist
Concepts for the mural came from throughout the country. Ramirez, who lives in the mural-rich Pilsen neighborhood of Chicago, came to Woodstock to get acquainted with the town.
His impression was that Woodstock was "pretty charming" and "well taken-care-of," he said. "People care about it."
Ramirez grew up in Berwyn and attended local public schools before graduating from the now-closed St. Joseph High School in Westchester.
Between the ages of 13 and 15, he said, older family members introduced him to the stylized lettering of street art.
In high school and college, he was introduced to a broader spectrum of art that was "more public and responsible," he said.
"I felt I could reach a wider audience with my art," Ramirez said.
With connections he made through his professors and mentors, Ramirez began creating murals at the age of 17. Sixteen years later, he has "a nice flow of projects coming in."
Nearby, Ramirez has designed and completed between 15 and 20 murals in Milwaukee; an additional 10 to 15 are in Chicago.
The physically demanding process of creating a mural appeals to the athlete in Ramirez, who played soccer on scholarship at the University of Illinois-Springfield for two years, after completing his first two years of undergraduate work at the College of DuPage.
Ramirez chose English as his college major.
"The craft and mechanics of writing are so important in trying to communicate your ideas as an artist," Ramirez said. "I paired my art with literature to help people to decipher it."
'Open up doors and let the people in'
As important as artistic vision is, Ramirez believes in community engagement with his work.
"I have come to learn that communities thrive when given the opportunity to engage directly with the 'making' process of murals," Ramirez wrote in his submission.
To that end, Ramirez will devote one day of the weeklong process to letting community members paint one or two small sections of the wall where he will have outlined the design.
Secondly, Ramirez will create coloring sheets of his design and distribute them to local schools for students to color in their own ways and then display their work in their homes.
Community involvement "ultimately shows ownership of the artwork," Ramirez said. "I like to open up the doors and let people in."
Council member Wendy Piersall, who also is chairwoman of the city Arts Commission, said she liked Ramirez's "willingness to engage in Woodstock."
"People are not going to come to Woodstock to see an advertisement," Piersall said. "They come to Woodstock to see a piece of art."