Woodstock is named in the Top Ten of T‑Mobile's Hometown Techover Finalists.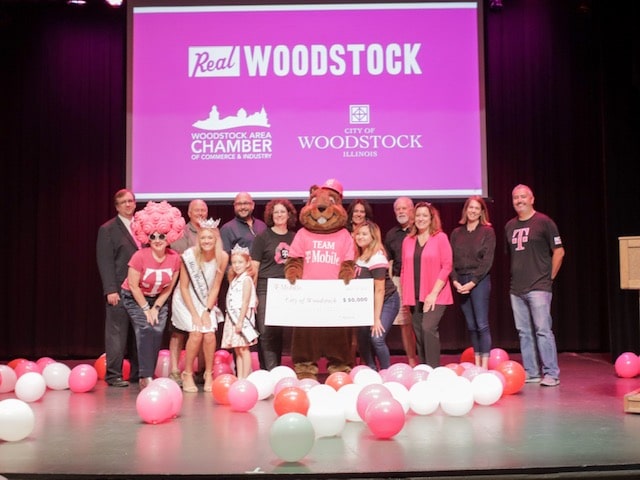 One of These 10 Small Towns is About to Win Big. Meet the T‑Mobile Hometown Techover Finalists.
From Guadalupe, Calif. in the West all the way to Wareham, Mass. in the East, these 10 small towns make the finals in T‑Mobile's Hometown Techover: a community‑wide tech upgrade valued at more than $3 million
BELLEVUE, Wash. — July 15, 2021 — It techs a village. This past April, T-Mobile (NASDAQ: TMUS) unveiled a contest to win a T-Mobile Hometown Techover — a $3 million tech makeover for an American small town, including a $200,000 grant, 5G network enhancements, a Little League® baseball field refurbishment, a free concert featuring multi-platinum duo Florida Georgia Line … and so much more. The chosen town will become the 5G model for communities across the U.S., showcasing the power of the country's largest, fastest and most reliable 5G network — T-Mobile's. Thousands entered, and 10 extraordinary communities representing the heart of small-town America were selected as finalists:
A panel of judges from T-Mobile and Smart Growth America will determine a winner based on project feasibility, the town's need for a network upgrade, and town leadership interest and engagement. Later this summer, one of the 10 finalist towns will be crowned the T-Mobile Hometown Techover winner, but in typical T-Mobile style, the remaining nine finalists will not go home empty-handed. The finalists will each get a $50,000 grant to help jump-start or complete a project in their community, too!
The grand prize-winning town will score a mass of tech goods and services for the community-as-a-whole as well as individual households, worth more than $3 MILLION.  Among the goodness:
Community Grant: A $200,000 T-Mobile Hometown Grant and consulting services from Smart Growth America
Play Ball: Little League® field refurbishment including a tech upgrade and T-Mobile Little League Call Up Grant support
Public Space Tech Upgrade: An Un-carrier style upgrade to a public space like a library, community center or town square
Access to T-Mobile Resources: Concierge enrollment in T-Mobile's Project 10 Million and Connecting Heroes programs
And last, but certainly not least, the bash of all bashes!: A FREE concert this fall for the winning town with 18-time chart-topping, multi-platinum duo Florida Georgia Line
America's 5G Leader
The winning Techover town is going to be the 5G model for everyone else.  But even if you are not in the Techover winning town the Un-carrier's 5G now covers 300 million people with Extended Range 5G! T-Mobile's Ultra Capacity 5G is expanding at an incredible pace and now covers 150 million people across the country, with plans to cover 200 million people nationwide this year. Ultra Capacity 5G can deliver blazing fast 5G speeds in more places than anyone else, with average download speeds of 325 Mbps with peaks of 1 Gbps, while Extended Range 5G is great for blanketing the country including rural and remote areas. T-Mobile's 5G network spans 1.6 million square miles — that's nearly 2x more coverage than AT&T and 4x more than Verizon — and the Un-carrier keeps widening its lead.
#5GforAll
T-Mobile Hometown Techoveris just one of the many initiatives underscoring T-Mobile's commitment to rural America. The Un-carrier's pledge includes free 5G phones with any working trade-in, amazing deals on plans, a new broadband option for 10 million rural households — T-Mobile Home Internet — and a commitment to build hundreds of new stores and create 7,500 new jobs supporting the wireless needs of communities across rural America. T-Mobile is also committing $25 million to small town grants during the next five years to help fund community development projects in rural areas across the country to help jumpstart stalled projects and get new ones off the ground. More than just bringing wireless, T-Mobile wants to be part of the community and help small towns thrive.
For more information about T-Mobile's commitment to small towns, visit T-Mobile.com/AcrossAmerica.
For full details of the T-Mobile Hometown Techover, head here.
Follow T-Mobile's Official Twitter Newsroom @TMobileNews to stay up to date with the latest company news.
# # #
5G: capable device required. Some uses may require certain plan or feature; see T-Mobile.com. Most Reliable: According to an audit report conducted by independent third party umlaut containing crowdsourced data for user experience collected from September 2020 until February 2021. Full details at: www.umlaut.com/en/benchmarking/USA. Fastest: According to Opensignal Awards – USA: 5G User Experience Report April 2021, based on independent analysis of average speeds from mobile measurements recorded during the period December 15, 2020 – March 14, 2021 © 2021 Opensignal Limited.
About T-Mobile
T-Mobile U.S. Inc. (NASDAQ: TMUS) is America's supercharged Un-carrier, delivering an advanced 4G LTE and transformative nationwide 5G network that will offer reliable connectivity for all. T-Mobile's customers benefit from its unmatched combination of value and quality, unwavering obsession with offering them the best possible service experience and undisputable drive for disruption that creates competition and innovation in wireless and beyond. Based in Bellevue, Wash., T-Mobile provides services through its subsidiaries and operates its flagship brands, T-Mobile, Metro by T-Mobile and Sprint. For more information please visit: https://www.t-mobile.com.
About Florida Georgia Line
GRAMMY-nominated duo Florida Georgia Line have been making history since 2012. The global superstars are the first and only Country act to achieve two RIAA DIAMOND-certified singles with 11X PLATINUM, #1 breakout "Cruise" (the best-selling digital Country single of all time – SoundScan) and 10X PLATINUM, #1 "Meant to Be" with Bebe Rexha (holding the longest reign on the Billboard Hot Country Songs chart at 50 straight weeks). With their fifth studio album, LIFE ROLLS ON (BMLG Records), featuring #1 hit "Long Live," FGL keeps proving themselves as in-demand collaborators and "one of the format's premier musical shapeshifters" (Esquire), including recent releases "Lil Bit" (Nelly), "It's About Time" (Russell Dickerson), plus "Drinkin' Beer. Talkin' God. Amen." (Chase Rice). FGL's tallied 18 career #1 singles, 13.2+ billion global streams, sold more than 40 million tracks and 4.7 million albums worldwide, logged 1.7 billion video views, and played to over 4 million fans spanning massive arena and stadium headline tours. Honored by ACM, AMA, Billboard, CMA, and CMT Music Awards, their creative empire also includes FGL House Party Radio with Florida Georgia Line on Apple Music Country, and thriving business initiatives: FGL House, meet + greet, Round Here Records, Tree Vibez Music, Tribe Kelley, Old Camp Whiskey, and Wolf Moon Bourbon (with Jason Aldean).
About Smart Growth America
Smart Growth America envisions a country where no matter where you live, or who you are, you can enjoy living in a place that is healthy, prosperous, and resilient. We empower communities through technical assistance, advocacy, and thought leadership to realize our vision of livable places, healthy people, and shared prosperity. https://smartgrowthamerica.org/.