16 Best Small Towns in Illinois (that You Shouldn't Miss!)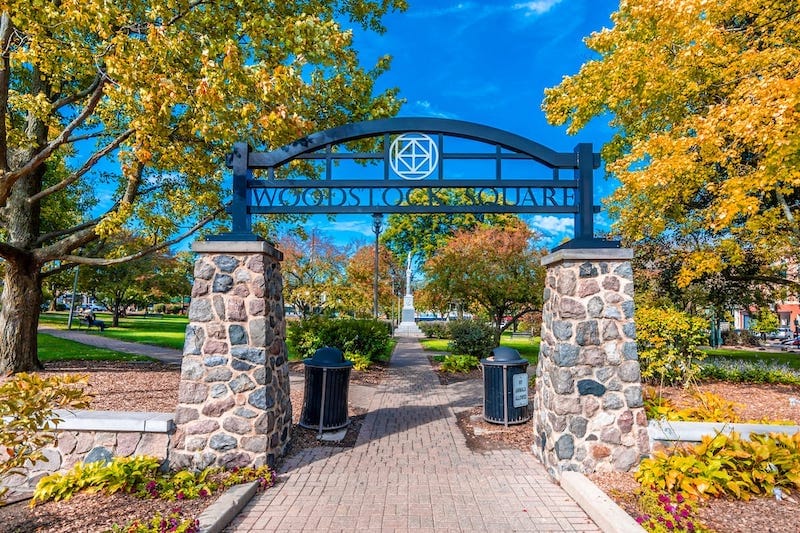 16 Best Small Towns in Illinois (that You Shouldn't Miss!)
This site uses affiliate links, meaning that if you make a purchase through our links, we may earn an affiliate commission.
Pretty much everywhere in Illinois gets overshadowed by the large (and wonderful) city of Chicago. This guide details some of the best small towns in Illinois worth a visit that will grant you a delightful city escape!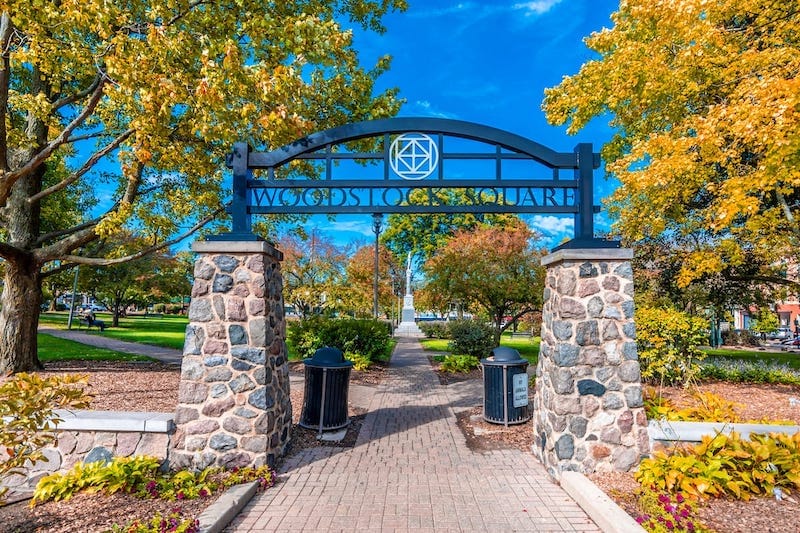 From towns that were featured in films to ones with a plethora of historical sites, these Illinois small towns should be on your Midwest bucket list!
Did we miss any of your favorite small towns in IL? Let us know in the comments! Thanks!
Best Small Towns in Illinois
Woodstock
Movie fans might be familiar with this town as a very famous motion picture was filmed here!
Though the town is pretty small, Woodstock is home to brick streets and numerous historic structures.
If you watched the movie Groundhog Day with Bill Murray, you might want to schedule your trip in a way that it takes place on the day when the town celebrates with their own groundhog named Woodstock Willie.
And PS – even though Groundhog Day took place in Pennsylvania, it was mostly filmed in Woodstock, Illinois.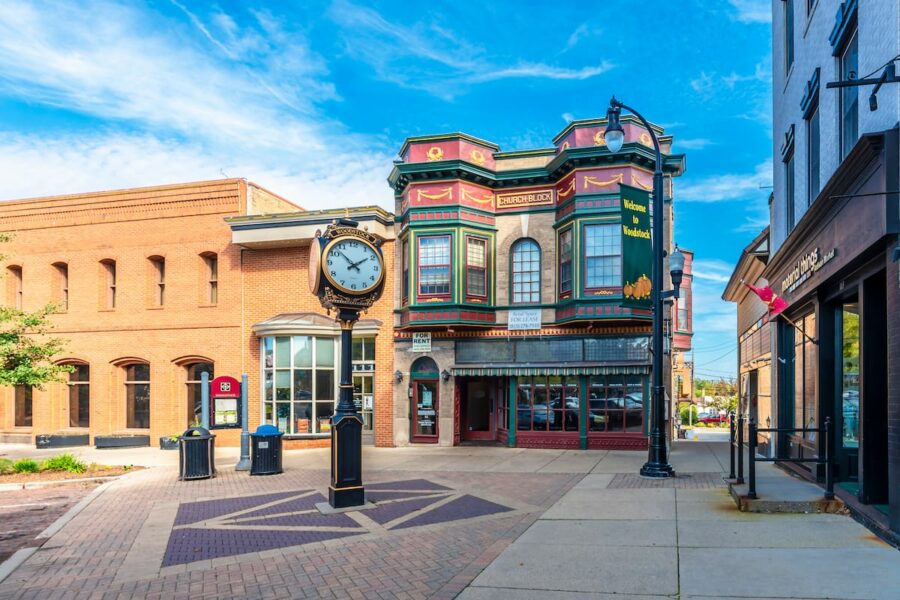 When strolling around the town, pay attention to the town square area, where you'll encounter a historic opera theater with Carpenter Gothic and Moorish characteristics, built in 1889.
Moreover, you'll most likely enjoy some great shopping around town, from handcrafted jewelry to fine arts and more. Visitors also claim that visiting a few restaurants is a must when in Woodstock!
Princeton
With around 800 residents, Princeton is located two hours west of Chicago. It has a standard Illinois small-town package – historic areas, beautiful parks, an interesting downtown, and many festivals.
The main street, with its long-lived structures, instantly gives an idea of what life was like in the tiny town over a century ago.
To get the most out of your visit, get to the Princeton Park District, check out the Soldiers and Sailors Park and Monument, the historical Lovejoy Homestead, and the Chapel Hill Golf Course and Events Center, which apart from being a championship course, is also a place where a lot of celebrations are arranged.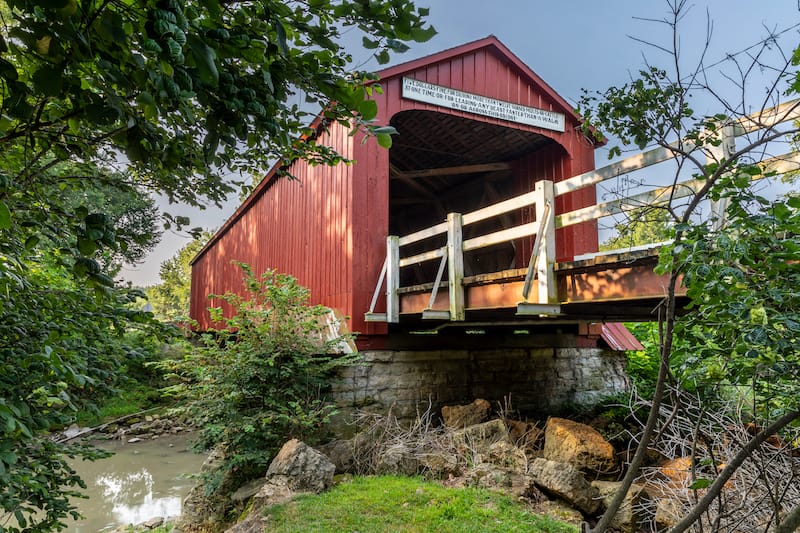 In addition to the cultural things that Princeton has to offer, you can also enjoy some local entertainment by getting a ticket to a movie at the Apollo Theater, which has been in operation since 1883.
St. Charles
Mainly due to accessibility issues (the town lies on Fox River), St. Charles remained somewhat unknown and off the path for several years.
Currently, the town is a popular summertime vacation spot as it has a pretty active outdoor atmosphere.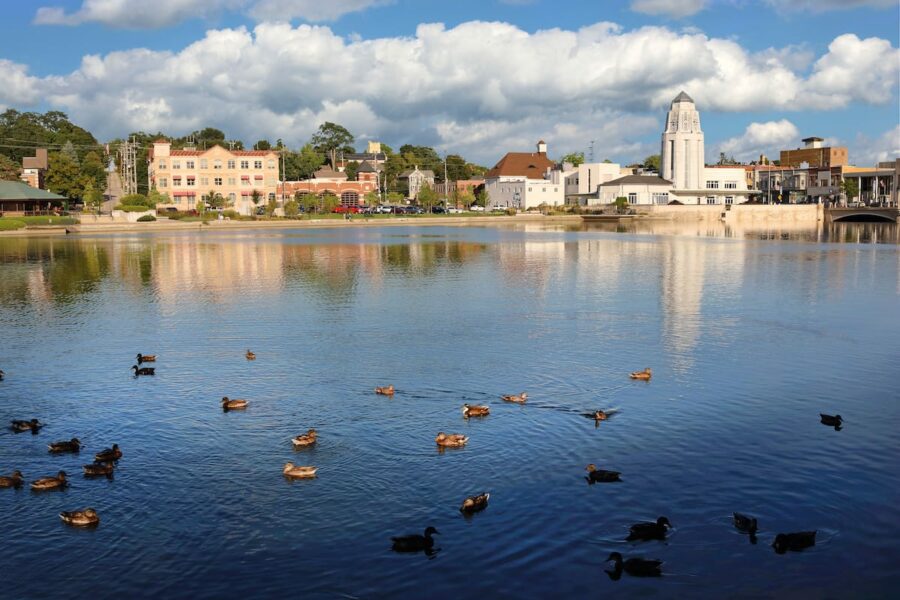 Other areas worth visiting in St. Charles are the Fox River Trolley Museum with historical evidence about transportation practices of the area and the Arcada Theater, entertaining the public with shows and acts from 1926 until today.
Ottawa
Ottawa is another typical small town in Illinois, with downtown area buildings donning large murals, Victorian houses, and a town square full of local shops, cafes, and restaurants.
The center features the Reddick Mansion – an Italianate home that is one of the largest ones built in the Midwest in the mid-1800s.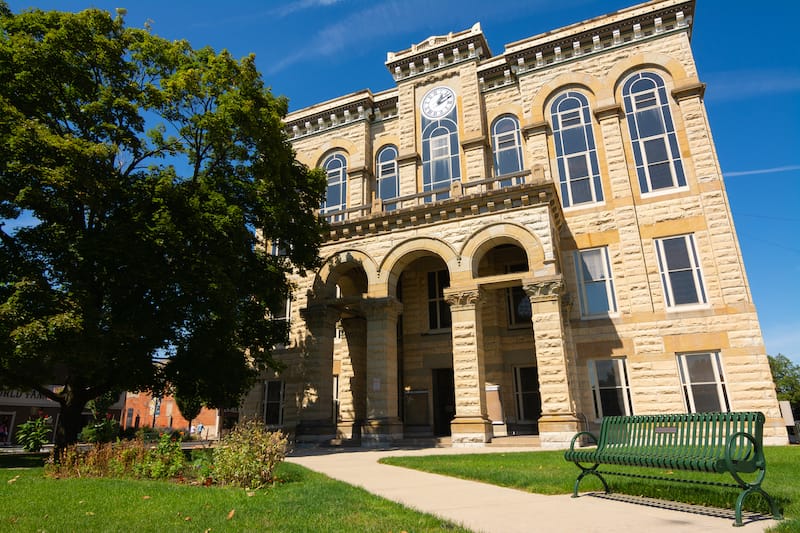 Be sure to divert your attention to Washington Square Park where you can stroll around and spot the Abraham Lincoln and Stephen Douglas statues.
Close to Ottawa is Starved Rock State Park, which is known for its epic waterfalls and hiking trails. If you're planning a visit to Ottawa, consider visiting this park too. It's only a 15-minute drive!
Nauvoo
With a population of merely 1,000 people, Nauvoo is a small town with rich culture, though, in 1844, the population of this town and Chicago was almost identical!
A notable place to visit here is the Nauvoo Temple, which is a Mormon structure reconstructed in 2000.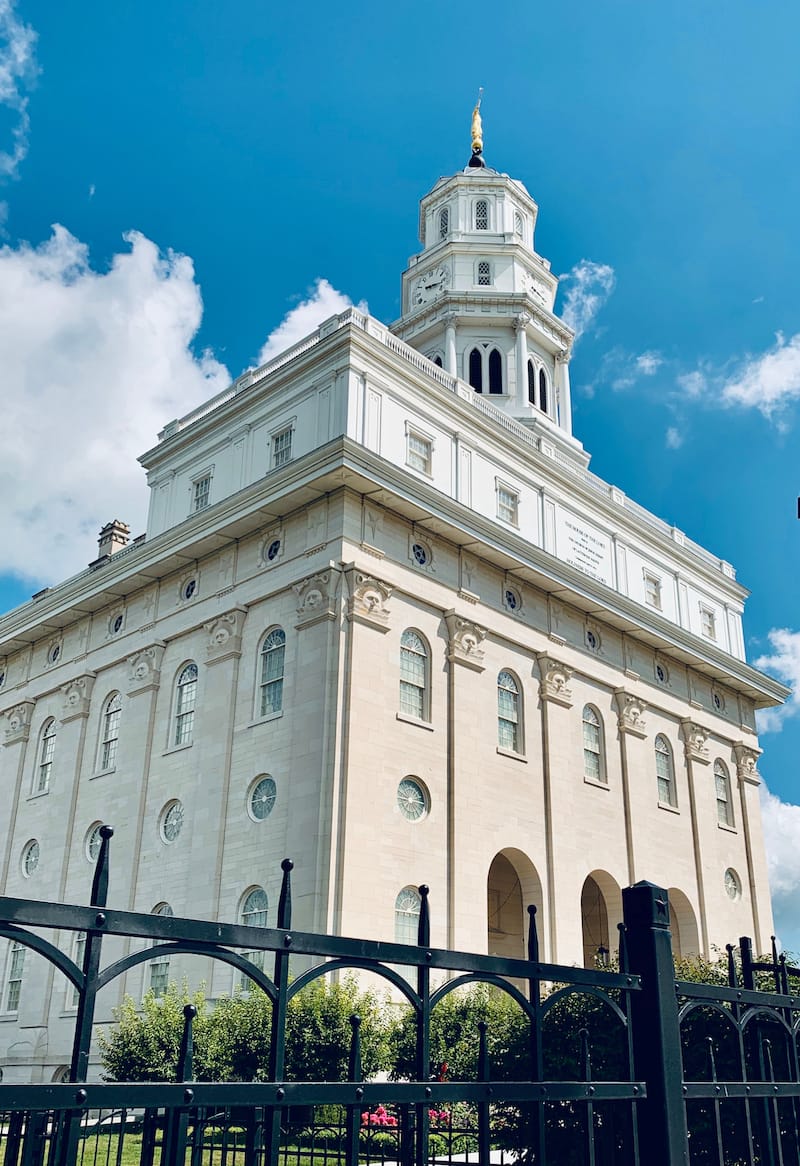 In addition, the Joseph Smith Homestead, the Nauvoo House, the Red Brick Store, and the Smith Family Cemetery are a few of the historic locations that are not to be missed!
If you want to combine historic experience and nature in your trip to this town, after seeing the sights there, head to Nauvoo State Park and entertain yourself with hiking, camping, boating, and more.
Fulton
Known for its Dutch population and named after the inventor of the steamboat, Robert Fulton, this town of Fulton is a pretty interesting place to explore as it is one of the coolest Illinois small towns.
Something that the town is famous for is its fully-operating windmill that was delivered from the Netherlands and has the name "de immigrant". By the way, visitors are welcomed here and you can even purchase its produced flours from the gift shop nearby.
To get to know the town better, visit the Sawmill Museum. Alternatively, there is a walking tour (The Heritage Canyon) that will also help you gain more information about the history of Fulton.
If possible, plan to be there the first weekend of May. That is when the Dutch Days Festival takes place. You'll see a parade, enjoy lots of music and food, create arts and crafts, etc.
Sycamore
Sycamore has a mixture of awesome downtown attractions and historic tours to offer to its visitors.
One of the main sights of the town is the DeKalb Courthouse that has a beautiful garden surrounding it. One of the best things to do in the town is to explore the Sycamore Historic District.
It's a combination of around 200 architecturally stunning homes that now have their place in the National Register of Historic Places.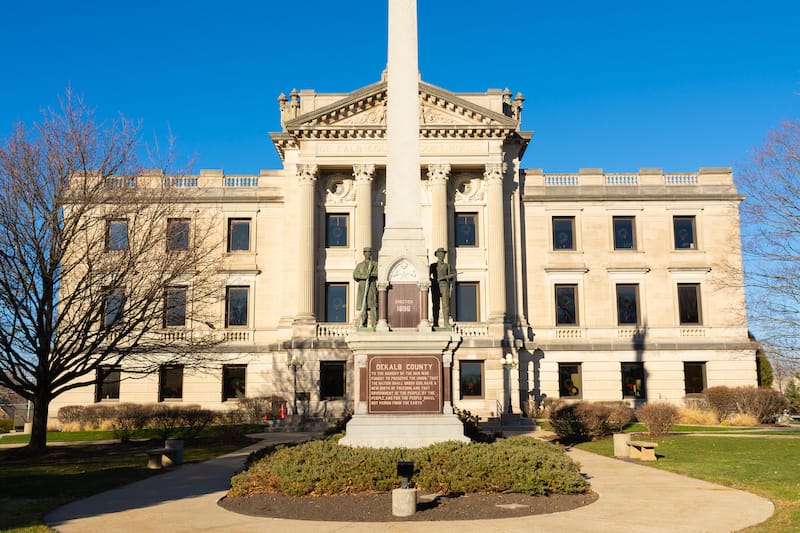 If you're flexible to choose when to visit Sycamore, plan to be there at the time of the Sycamore Pumpkin Festival, which has been taking place since 1962.
The celebration is all about arts and crafts, pumpkins, carnivals, cuisine, fireworks, and it even has a parade. The date is usually toward the last week of October.
Geneva
Geneva is a suburb of Chicago and is, in fact, quite close to the city. Just like other small towns of the area, this one also offers Victorian architecture, a historic district, and a few parks… all of which are great to spend a day in.
History enthusiasts should not miss the Geneva History Museum at any cost! Among other places, the Fabyan Forest Preserve is also pretty unique, featuring a Japanese garden and a villa, which was renovated by Frank Lloyd Wright.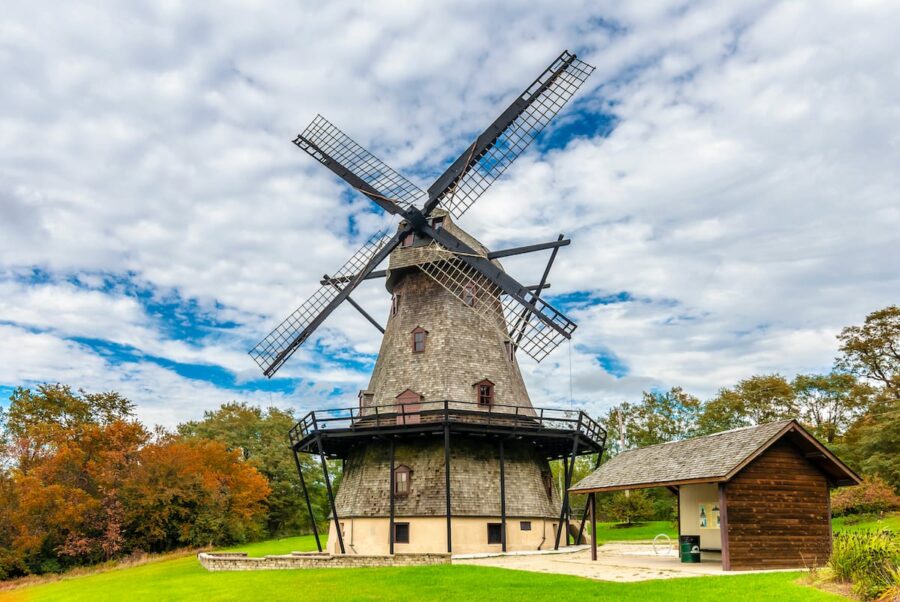 Aside from admiring the town's structures, most of which are in their original state, Geneva has around 150 local shops and restaurants, where everyone will find something for themselves and their travel companions.
Devote some time to enjoy a walk along the Fox River and get inspired by the public art displayed on sidewalks and buildings.
Elsah
Elsah is an oasis-like town, the location of which is sometimes known to be challenging to find. This town has a historic feel and is famous among geologists, as prehistoric rock formations are frequently studied here.
How can you entertain yourself in Elsah? Well, the town hasn't changed much in many years, so the first thing suggested would be to explore the mystic charm of stone and wooden houses by just strolling around the Illinois town.
It is also known as a great bird-watching location as many have reported spotting bald eagles there! Visit The Elsah Museum, which is free of charge and has many pictures depicting life in this town in the past.
The best season to visit Elsah is summer or early fall.
Lebanon
Next on the list is a college town called Lebanon that is home to McKendree University, which is the oldest college in the state of Illinois.
You might find the name of the town pretty interesting, right? Well, there are several towns nearby carrying Middle East country names.
This is alleged because there were some similarities in the confluence of the Mississippi and Ohio Rivers with the Nile Delta.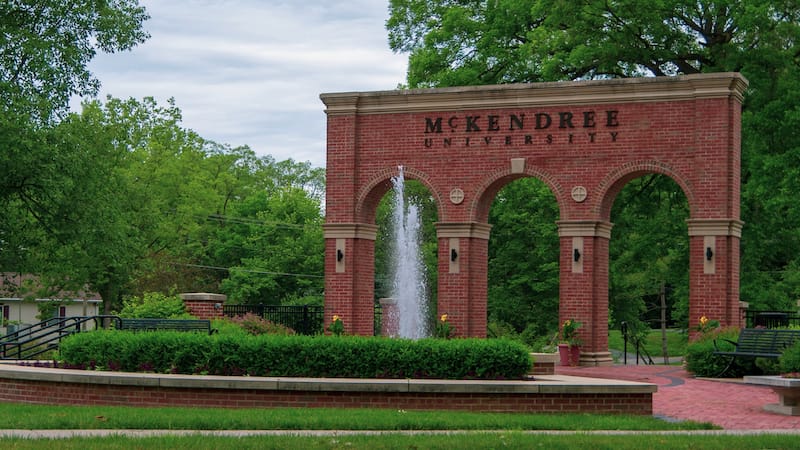 The historic part of the town is centered around five main areas: the University and its surrounding, a few residential areas, the Emerald Mound and Village Site, the commercial part of the town with Brick Street being the shopping center, and an archeological site – a satellite village of Cahokia, which is an important settlement showcasing Mississippian culture.
Mount Carroll
If you want to visit Mount Carroll, note that it's not famous for being the warmest place in the state! Do prepare yourself well in terms of checking out the temperature beforehand and getting to explore all the town has to offer from its art, architecture, and culture.
After all, it's called the New England of the Midwest.
The downtown hasn't changed drastically over the decades but the structures are still pretty well-preserved. Here, you're surely going to experience the feel of an old Illinois town to the fullest.
Among the best things to do in Mount Carroll is paying a visit to Timber Lake Playhouse, the mystical Raven's Grin Inn, and trying to arrange a musical event in the town.
Galena
Named after a mineral that was mined in the area, Galena is another beautiful old town in Illinois with more than 800 properties included in the National Register of Historic Places!
The main street features buildings dating to the 1800s and it is worth visiting for sure! This is the place where you can experience shopping and walking in the old town as it is.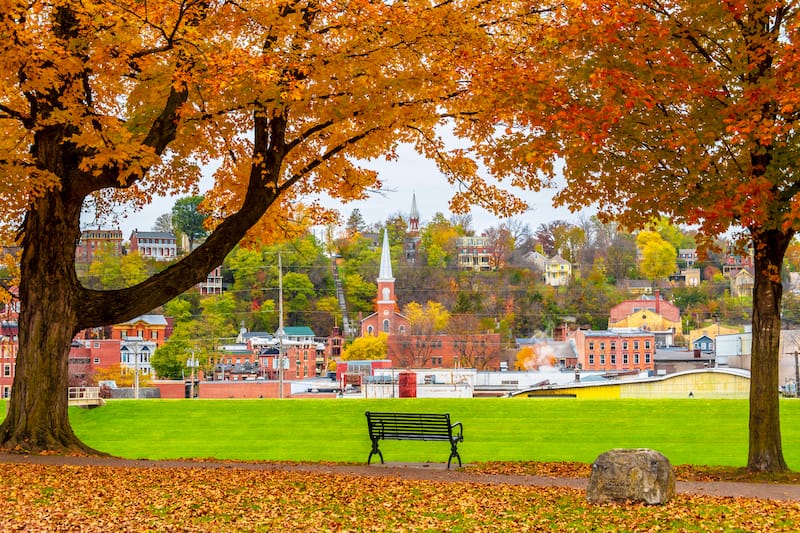 As a bonus, get to the adjacent Thunder Bay Falls and try to visit at least one of the great wineries of Galena. It really is one of the best small towns in Illinois!
Quincy
Quincy is another town in Illinois that had a rich past. It was traditionally known for being a transportation hub and center.
It's not as small as other towns mentioned above, but still, it has got a pretty historic vibe. An epic part of the town that's recommended to check out is the South Side German Historic District.
The architecture designs here vary from structures with German influence to Frank Lloyd Wright's Prairie-style designs.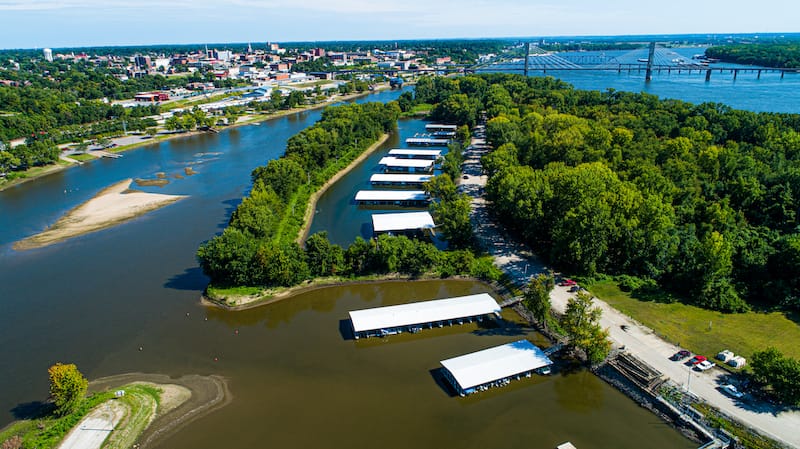 If you find this type of exploration enjoyable, you might want to organize a guided tour through private and public buildings of the town to get a taste of it with someone who is an expert.
Learn additional details about Quincy while visiting the Quincy Museum. And, don't miss the unique Mediterranean structure in the town called the Villa Kathrine.
Arcola
The most famous thing about this Illinois town is that Arcola is where the Raggedy Ann doll was first created!
Arcola is a few hours away from bigger cities and is located in Illinois Amish country. To make some good memories from this town, a recommendation is to visit the Carnegie Library.
Another great feature of the town is that there's almost always a festival taking place, like the Horse Progress Days, the Raggedy Ann Festival, the Amish Country Bicycle Tour, or Oktoberfest. Be sure to take some Amish fudge home with you!
Some notable places to visit in Arcola are the Hippie Memorial, the Green Mill Village Theatre, and the religious landmark Arcola Presbyterian Church.
For a cool Instagram photo, head over to the historic Illinois' Original Burger King, which was built in 1952.
Greenville
Greenville is one of the oldest small towns in Illinois. In fact, it just recently celebrated its 200th birthday!
Greenville University is a college in the town and because of it, Greenville's population has many young folks, which is also the reason why the town is spoiled for entertainment despite its small size!
When visiting Greenville, don't neglect the beautiful museums of the town, like the Richard Brock Museum, the American Farm Heritage Museum, the Armed Forces Museum, and the Demoulin Museum.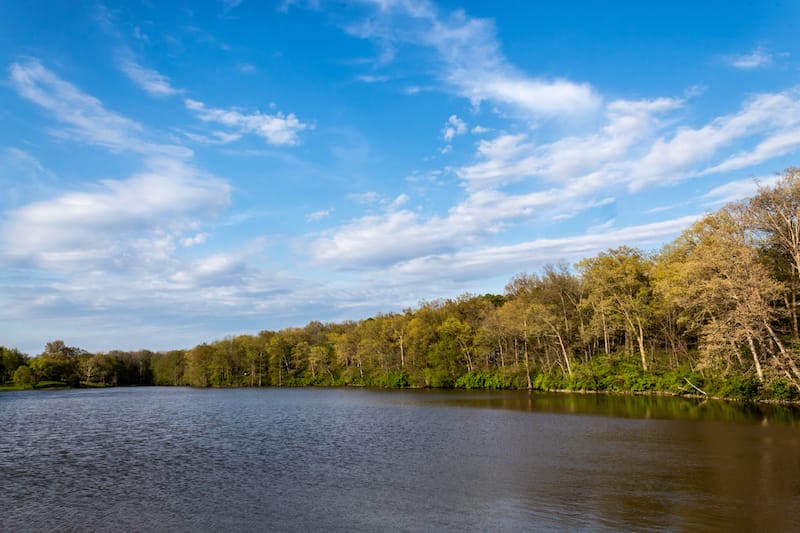 The Greenville Public Library is another gem that offers comprehensive collections, covering a century's worth of information.
Some amazing festivals happen here annually and the most famous ones are AgapeFest and the Greenville Graffiti Car Show.
Elmhurst
Elmhurst is a community hub and a town with a lot of character. There are many small shops, major visitor attractions, and great places to explore.
The sure "must" here is to get to Wilder Park, which is home to the Elmhurst Art Museum and the Lizzadro Museum of Lapidary Art. The first one is dedicated to contemporary art, while the second is a gallery of gemstone treasures.
Speaking of museums, check out the Elmhurst History Museum too. It's built in a Romanesque Revival style and presents interesting antiques, artifacts, and many short-term exhibits.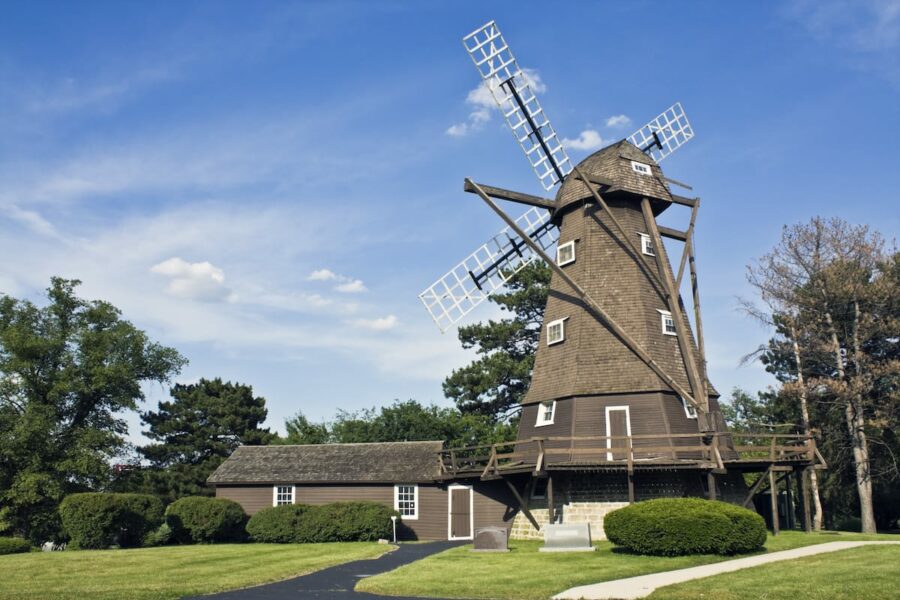 The diversity of eateries is also a great perk of the town! In the Elmhurst town center area, you'll find everything ranging from crêpes and other desserts to Chinese or Italian cuisine.
Did we miss any of the top small towns in Illinois? Let us know in the comments! Thanks!