Celebrate Groundhog Day in Woodstock, IL as experienced by Olio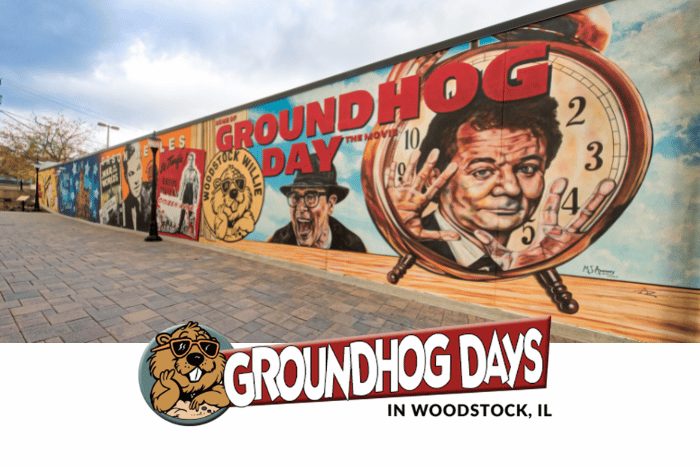 Woodstock hosted travel writer and Goundhog fan Megan from Olio this past Groundhog Days Festival and we wanted to share her insights to our favorite holiday!
Gobbler's Knob in Punxsutawney, Pennsylvania garners a lot of the Groundhog Day fanfare. But lovers of the 1993 cult classic Groundhog Day may be surprised to learn they'll need to head west to step onto the set of their favorite film.
That's because the movie Groundhog Day was actually filmed in Woodstock, Illinois. Lucky for cinephiles, the charming community has fully committed to this claim to fame. Even so, nothing could have prepared me for how delightfully this northern Illinois community embraces its quirky traditions. In fact, thousands of people make the pilgrimage to Woodstock for the festivities every year. When I visited, some even traveled internationally from countries like Spain, Japan and Ukraine to pay homage to this Bill Murray classic.
In addition to the other great things to do in McHenry County, a lot happens in Woodstock during a short amount of time over Groundhog Day. Keep an eye out for Woodstock Willy, the town's answer to Punxsutawney Phil and quite possibly Woodstock's biggest celebrity. Prepare to watch the film on repeat (is there any other way on Groundhog Day?), and get ready for the polka music to be pumping.
No matter where you're coming from or how deep your allegiance is, one thing is for sure: Groundhog Day in Woodstock, Illinois is a bucket list-worthy event. Here's everything you need to know about spending February 2 in Woodstock, where the movie Groundhog Day was filmed.
You can enjoy the whole story here