D&A Delivers Unique, Unexpected Raw Beauty to the Square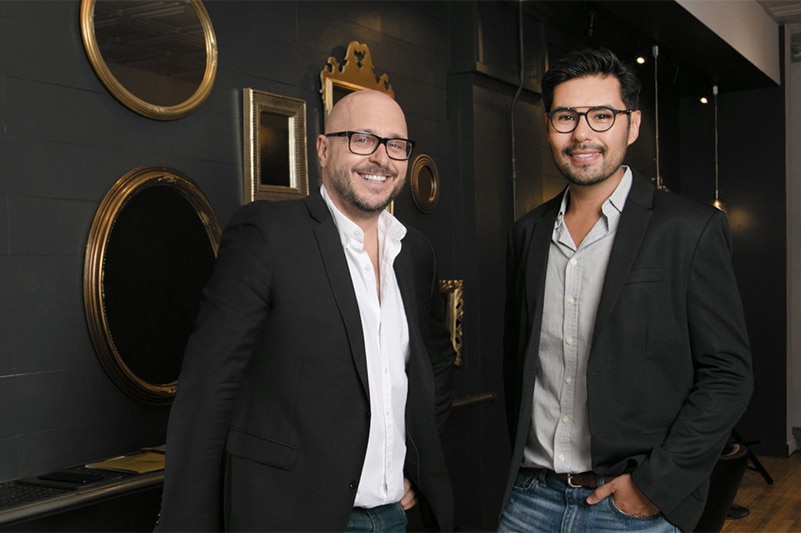 When Darrin Flynn and Alberto Perez opened the doors of D&A salon | apothecary a year and a half ago, they invested their savings in their space and "flipped the sign on the door to 'open', said a prayer–and it happened. Word spread quickly." says Darrin, about a salon that was a "bit unexpected".
Today, D&A employs three full-time stylists, two part-time make up artists, one part-time esthetician, and soon a nail technician.  D&A has expanded from 1,600 square feet to 2,800 square feet within 18 months of opening. It's a full service hair salon with a retail twist: D&A emphasizes natural products — and products that are not readily available within a self-imposed 21-mile radius of the Woodstock Square, where the salon is located at 106 N Benton St.
D&A was conscious of uncovering the historic elements of the building when opening and expanding their space. "We like to say we're raw beauty," Darrin says, referring to the space. "We think the space has a story to tell through the architecture. We have embraced the history here and look forward to creating our own story in this space." The new extension features a retail and meeting space that is adjacent to the salon.  When designing and constructing the space, their overall hope was to create an upscale yet welcoming personal care mercantile befitting the history of the Woodstock Square.
D&A carries unique brands such as Scalisi Skincare, Beekman 1802, Ursa Major skincare and Phyto haircare in addition to the many others that make up their 20+ line offering. For some brands, such as Los Poblanos and Lily Lolo, D&A is currently the only point of sale in the state. "We feature products that are naturally based, often organic and most importantly toxin and cruelty free. When we started, we wanted to be more than a salon; we wanted to bring in product lines that weren't readily available in this region."
D&A is committed to their modern interpretation of the word "apothecary" which to them means utilizing quality products to address individual concerns pertaining to skin, hair and body.  All members of the team are educated on products to help customers build a more natural lifestyle. "We want our team members to be able to recommend the right products for our guests, the same way you would go to any specialist," says Alberto. "Trust from our guests is valuable to us."
To Darrin and Alberto, what's especially gratifying is that the salon has become a gathering spot. "It's fun to hang out on the Square," say many of their guests. "It's like the new version of the old barbershop."
While neither partner had owned a salon before, Darrin has served in management roles in the hair care and beauty industry for over 20 years, and Alberto had 10 years experience managing high volume salons in Chicago. They are pleased that many of their guests are not coming from other local business' but are choosing to support local instead of leaving the area to satisfy their hair and personal care needs. "We have been described as 'chic and unexpected'", says Alberto, "and that has drawn people from farther away through word of mouth". In fact, many of their clientele are either from outside of McHenry County or were previously receiving services outside of the area.
In the near future, D&A will be offering a series of workshops that will give their guests the opportunity to meet with the Creators or National Educators from the lines that they offer, providing an up close and personalized experience for each guest. D&A currently features the photography of local artists Chehalis Hegner and Lisa Beard throughout their space, which are available to enjoy as well as purchase.
Finding Woodstock for Darrin and Alberto can be summed up as a "happy accident" when a friend invited them to a movie at the Woodstock Theatre just after the New Year. "The holiday lights were up and it was snowing and it felt magical, like a movie," says Darrin. "We've talked about opening a salon for years – when we saw the Woodstock Square, we thought it was a perfect location to pursue that dream."
"It's a true community here in Woodstock," says Alberto. "We can walk down the street and people will greet you – you don't find that everyday in the city. Everyone is so friendly and genuine here."
And like D&A salon | apothecary, Woodstock is mining its creative streak while embracing its raw beauty and historic charm.