Dougherty Provides "Creative Energy" to Woodstock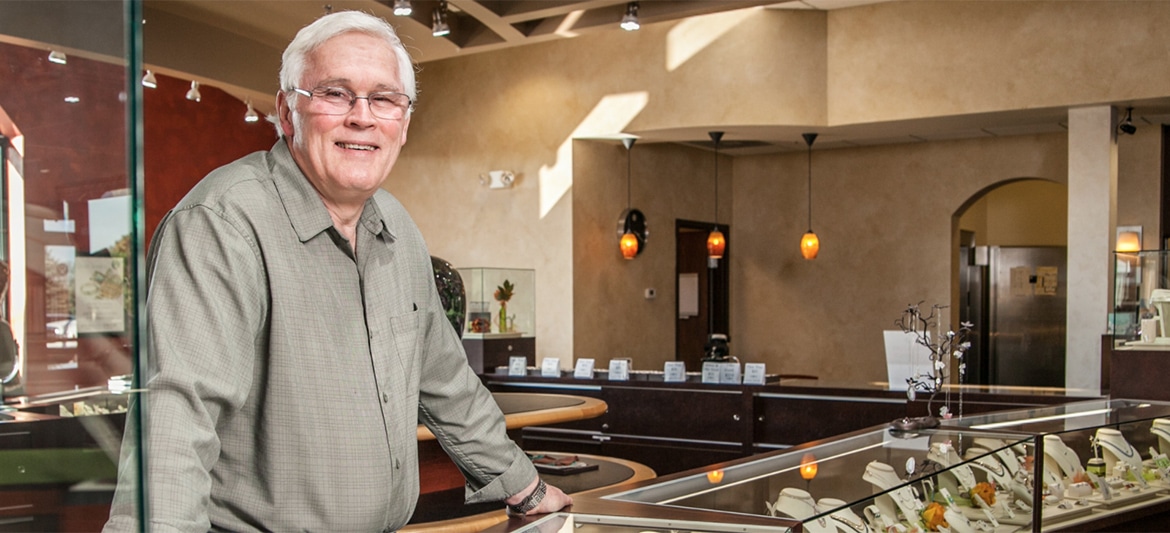 At a time when most people are staring at retirement, Woodstock entrepreneur Tom Dougherty is just getting rolling.
The owner of Studio 2015 and Dougherty Enterprises is in the midst of an expansion boom. In February, Dougherty, 66, bought a company, relocated its twenty employees to Woodstock and is in the process of buying a building in Woodstock to double the size of his jewelry design and manufacturing operations.
His passion for creating jewelry goes back forty-plus years. Dougherty took a metals course as a senior at Northern Illinois University, and became a high school teacher for 11 years before deciding to go into designing and making jewelry full-time from his 9×17 workshop.
In 1992, Dougherty bought the building at 110 Benton on the Woodstock Square, then bought 112 Benton. "We sold jewelry I designed and made," he recalls, "and over time we grew while the Square lost one, two, then three jewelers." Dougherty began manufacturing jewelry, too, and eventually he moved the manufacturing business into a building on the west edge of Woodstock, while the retail business moved to 11701 Catalpa, near the intersection of Routes 14 and 47, in 2007.
With 56 employees, Dougherty Enterprises designs and manufactures as many as 3,000 pieces of jewelry per week, and the company has grown into the country's leader in bereavement jewelry. One brand, Thumbies, makes keepsake jewelry designed to honor a loved one. Funeral homes collect fingerprints of a family's deceased loved one, which Thumbies turns into a metal pendant, charm, ring or cuff links. Dougherty plans to expand internationally in the Philippines, New Zealand, and South America.
A passionate advocate for Woodstock, Dougherty sits on the board of Promote Woodstock, the one-year-old public-private partnership that developed the Real Woodstock brand.
"Woodstock is in this wonderful transition and if we can keep the momentum and keep people's minds open to new concepts, nothing should stop it from becoming an even greater place to live," he says. "I am banking everything I own on Woodstock."
"I love the creative energy here," he adds, "We design, manufacture and build. I wouldn't be putting an investment into Woodstock if I didn't believe in it. We all need to pull and push together."
If so, Dougherty believes this 172-year-old community will continue to grow and prosper for another 172 years.