Down 2 Earth & Laddybuck Leather Bring Creative Streak to Square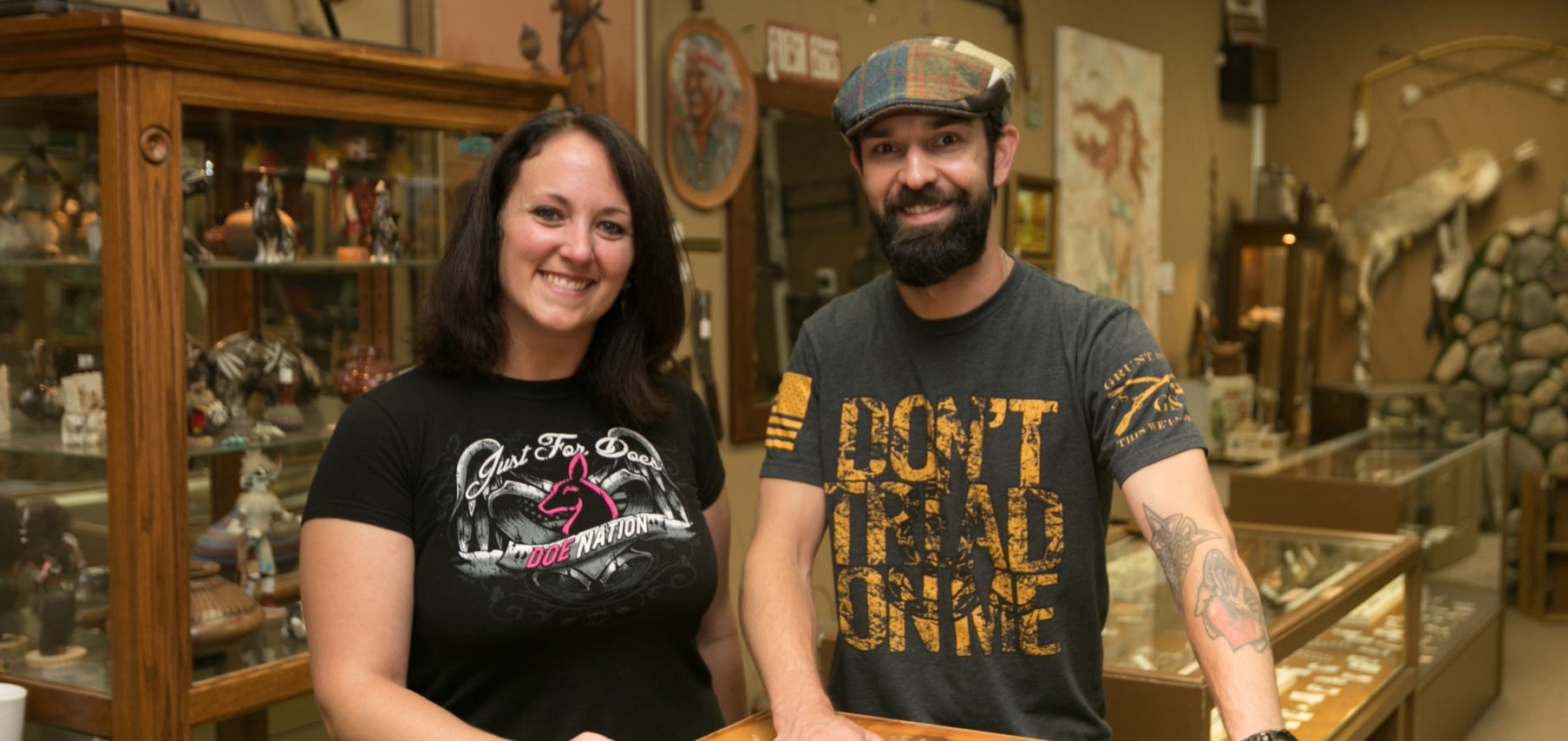 To Nina Huffman and fiancé Jason Neveu, community starts with a simple smile.
The owners of Down 2 Earth and Laddybuck Leather on the Square are makers, craftsman, artists and purveyors of peace. "We want to change people's days for the better," says Jason.
Nina, who grew up in Woodstock, and Jason (who is from Wheaton) have fashioned an eclectic boutique that blends Native American jewelry, antiques, minerals and crystals, loose herbs for tea, handmade leather goods and unique gifts.
"We are very passionate about natural and handmade products."
Indeed, the two mine the creative streak that is Real Woodstock. Jason is a craftsman, using 19th century tools to hand make leather goods, all custom and all to order. "I love making what you want but can't find elsewhere–aesthetically, quality, functionality of piece," says Jason. "To hand a person a wallet or belt or key chain that you just made and they look like a kid on Christmas morning, how often does that happen? That's so cool."
While the store opened September 2014, Nina had her eyes on the storefront for years. "We would come to the Square, get dinner, coffee, ice cream and sit across the street and just look at the storefront," she recalls.
"I grew up a few blocks from here and my parents had a store next to the Woodstock Theatre that sold Native American jewelry," Nina says. "So this is my spiritual center".
Adds Jason: "We try to honor our history. Irish. Native American. Woodstock. So we incorporate a bit of everything we think people will love, and we're always adding something new and different."
From two dollars to thousands of dollars, Down 2 Earth and Laddybuck Leather offer something for everyone's price point. Says Jason: "For people to spend the money they spend here and so thankful and smiling the whole time, that feels great."
The two are proud to call Woodstock, and the Square, home. Says Jason: "I have traveled all over. There is a sense of community here. It's like family. On the whole, if you need help from someone here you have it. You can count on your community. That's what makes Woodstock special."