'Drive for excellence': Local senior center director wins state recognition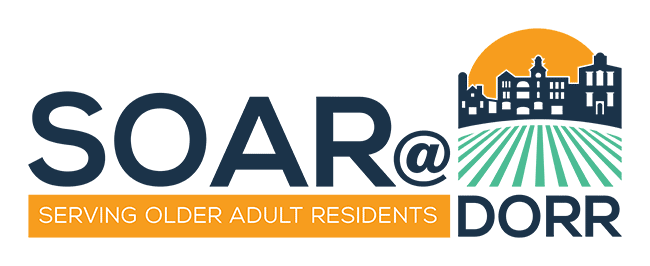 The activities director of a local senior center has received a statewide award after serving only one year in her Woodstock job.
Laura Wassinger, director at SOAR@Dorr – Serving Older Adult Residents – last month was named Senior Director of the Year by the Illinois Township Association Senior Citizens Services Committee during the 115th annual education conference of township officials of Illinois.
SOAR@Dorr is a partnership between Dorr Township and the city of Woodstock, which operate the senior center at township offices, 1039 Lake Ave.
Township Supervisor Sue Brokaw said Wassinger, who was hired in August 2021, takes time to connect with people, including calling or texting a person in the evening or weekend.
"Everyone is important to her," Brokaw said. "Laura has had enormous impact in expanding Dorr Township's senior program. Her energy and enthusiasm are evident to everyone she meets."
Before Wassinger's arrival, the city of Woodstock offered a weekly program and Dorr Township provided bingo and activities once a week. The offerings have now expanded to five days a week.
"We had always struggled with ways to get our seniors involved beyond bingo," Brokaw said, "and Laura accomplished this and so much more."
Driven, energetic
Wassinger has overseen the distribution of free computer tablets and training. She started an advisory group, book club, walking group, conversation café, arts and crafts lessons, and more. Holiday parties are well attended. She has already hired two additional staff members to assist with the many activities.
Before coming to Woodstock, Wassinger was recreation supervisor for the Northbrook Park District, where she was commended for her help to local seniors during the pandemic. She would call to check up on 10 seniors a day and continue connections with the senior community during that difficult time.
State Rep. Steve Reick of Woodstock recognized Wassinger for receiving this award.
"I presented Laura with a certificate from the House of Representatives congratulating her on her recognition," Reick said. "Laura's work with the seniors of Dorr Township exemplifies what can be accomplished when we all step up to help our neighbors."
Brokaw said she was proud of all that had been accomplished under Wassinger's direction.
"We would not be where we are today without her," the township supervisor said. "Her drive for excellence and her energy have made SOAR@Dorr a welcoming place for area seniors and a valuable resource to the community."
For more information visit the SOAR@Dorr link at dorrtownship.com.