Empathy, life skills, music: Special education, orchestra students learn together as part of Creekside Middle School program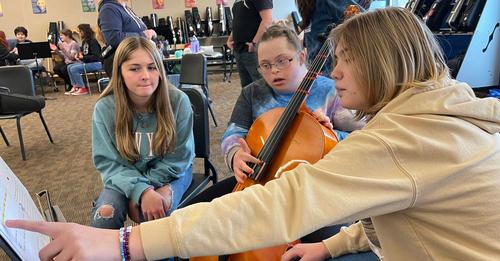 Empathy, life skills, music: Special education, orchestra students learn together as part of Creekside Middle School program
'It's been a really good opportunity to hang around them and teach them,' one student said. 'I think it's just a good experience for all of us.'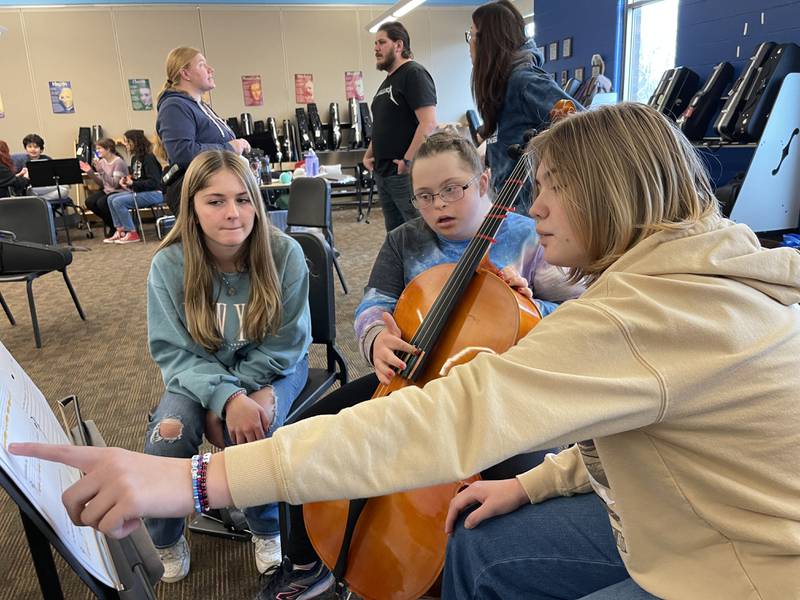 It was time to pack up for the day, but Luca Slabinski wouldn't give up his instrument.
As a member of Creekside Middle School's Life Skills class in Woodstock, Slabinski has been learning how to play an instrument with orchestra students in the school's general population.
After another day of learning on Friday, Slabinski was roaming the room with his violin. It wasn't until the students who have worked with him throughout the year intervened, he put it away.
"Little glimpses like that show you they've built a trusting bond with him that he gave the instrument up," Creekside orchestra teacher Lyndra Bastian said. Slabinski is one of many students participating in the school's United Sound program, which takes kids in special education and pairs them with music students in the school's general population.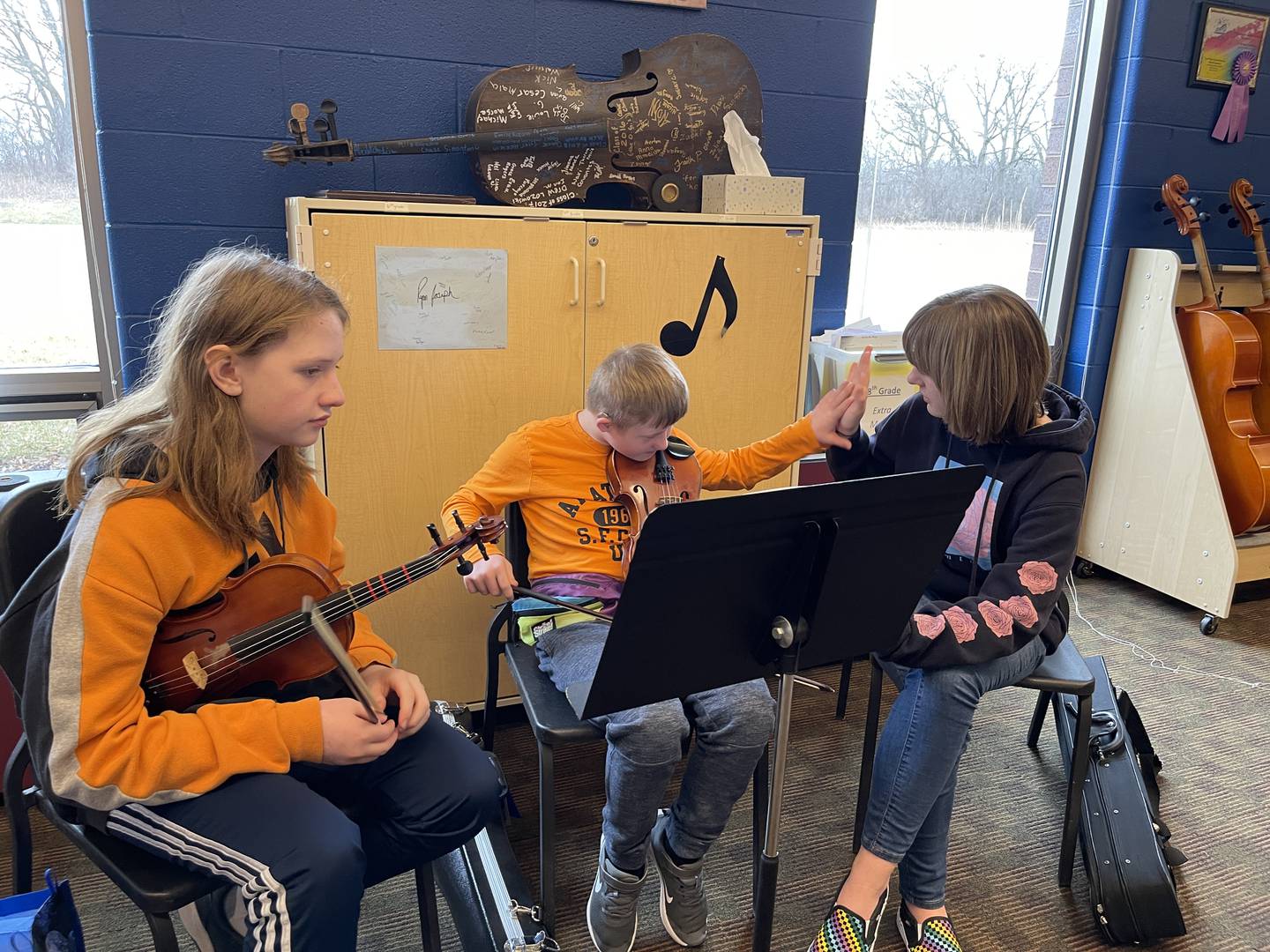 The program is a national one and was originally brought to Creekside during the 2019-20 school year, Bastian said. With the orchestra room located next to the life skills and special education classrooms, it seemed like a great pairing.
Life Skills teacher Natia Hong said the program benefits her students by increasing their social skills and their awareness. They're also happier.
"I think that peer interaction, plus most of them love music … it puts everyone in a good mood," she said.
Creekside is one of four schools in Illinois with a United Sound chapter, according to the organization's website. Overall, it has 119 chapters in 29 states.
While it was brought to Creekside in 2019, the COVID-19 pandemic put plans on halt. It wasn't until this school year Bastian asked to pick the program back up.
This year, the students meet to play instruments once per week, with a debrief after each session to see where things can be improved, Bastian said. Many students on both sides of the program have made a lot of progress.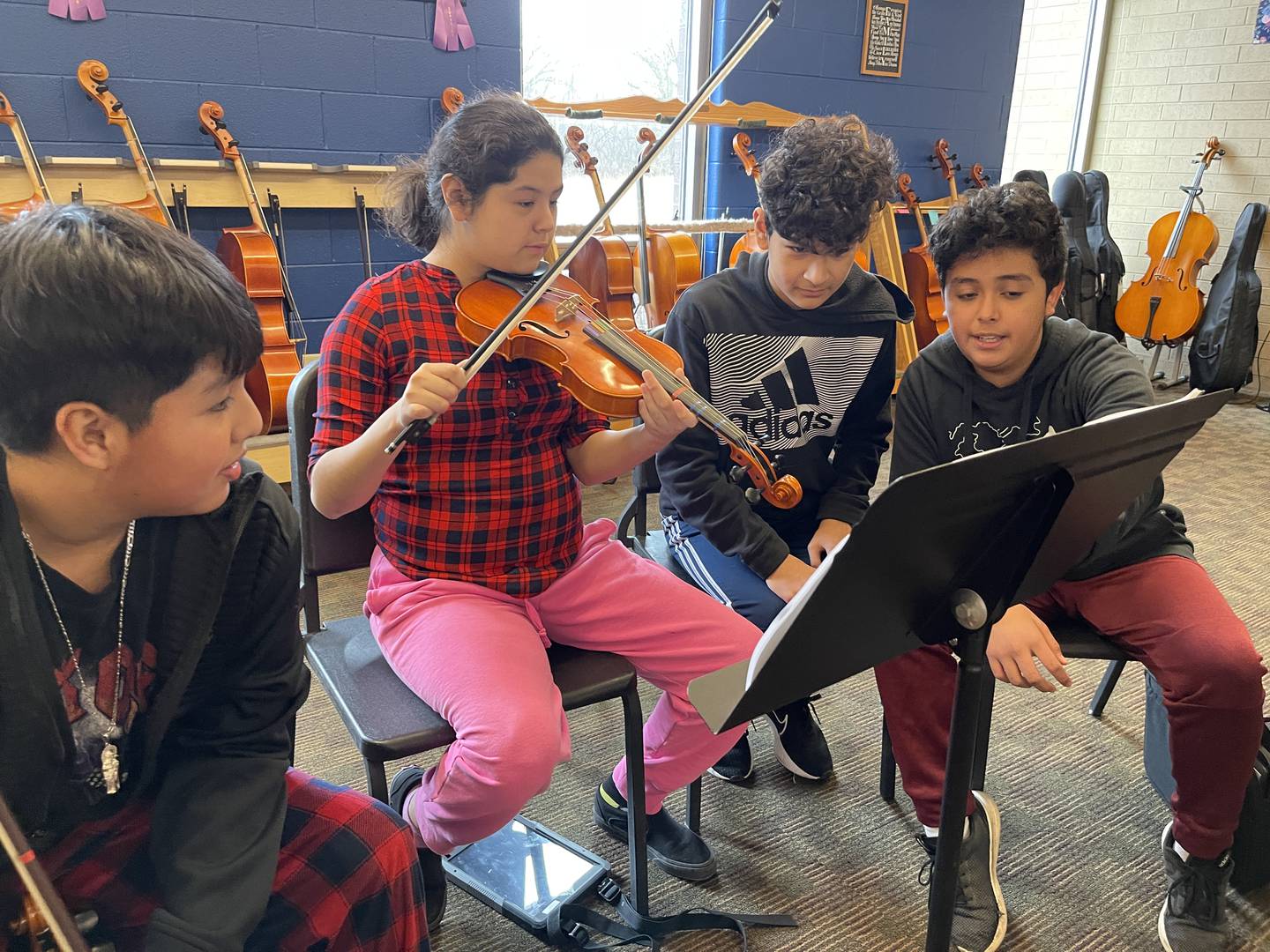 Eighth-grade student Mackenzie Green, who is one of the co-presidents of the program at Creekside and is one of the students who work with Slabinski, said Slabinski is now able to play all the strings on the violin. He soon could get to the point where he can play several notes, she said.
"It's been a really good opportunity to hang around them and teach them," Green said. "I think it's just a good experience for all of us."
For Hong's students, they are understanding more music as the year goes on and can follow along. On Friday, some students, who are not as physically independent, allowed Hong to give assistance.
"Sometimes they don't tolerate it," Hong said. "[On Friday], it was very successful. We were able to go through and practice several times. We moved to the next step."
Over time, relationships between the students have grown. At first, it was hard, as those in the general education population didn't fully know how to work with the Life Skills students, Bastian said. Some are not verbal, for example.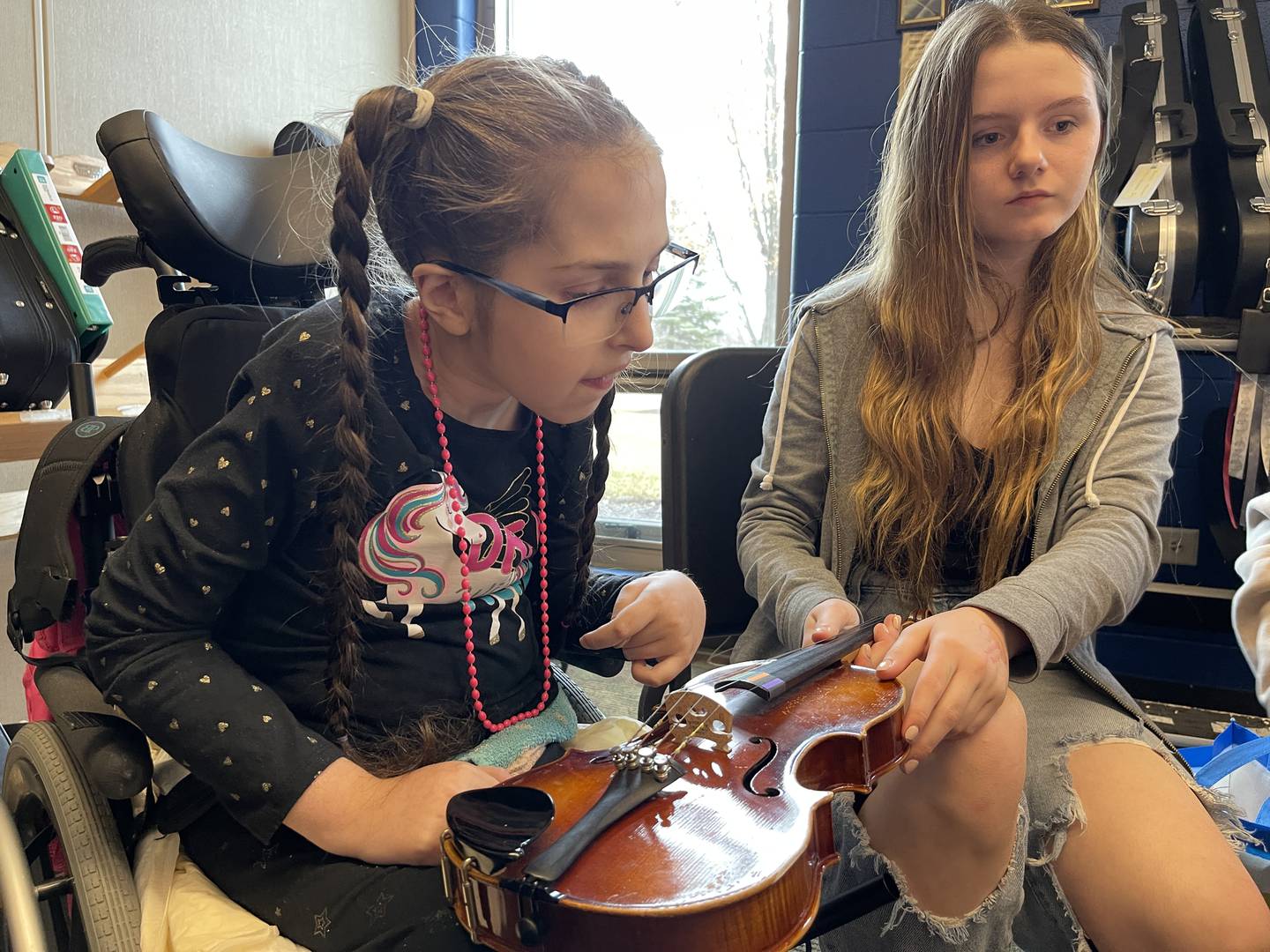 On top of learning skills needed to work through the lesson, which sometimes can bring a litany of new challenges, Bastian's students are learning empathy, she said.
"One student told me they wanted to be a special education teacher," Bastian said. "I think the unexpected [take away] is how well it's going this year."
Eighth-grade student Yaxiri Juarez-Ramos is also working with Life Skill students in the program. She agreed with Bastian, saying she's gained some understanding of what it's like living with certain disabilities.
"I've learned everybody's different," she said. "It's helped me understand that perspective."
Principal Ryan Doyle said the program is all about inclusion, and called it "an amazing opportunity" for the students.
"It warms your heart," Doyle said. "When you see the interactions and the excitement on these kids' faces, it's amazing."