Ethereal Confections; Bean To Bar Chocolate Made In House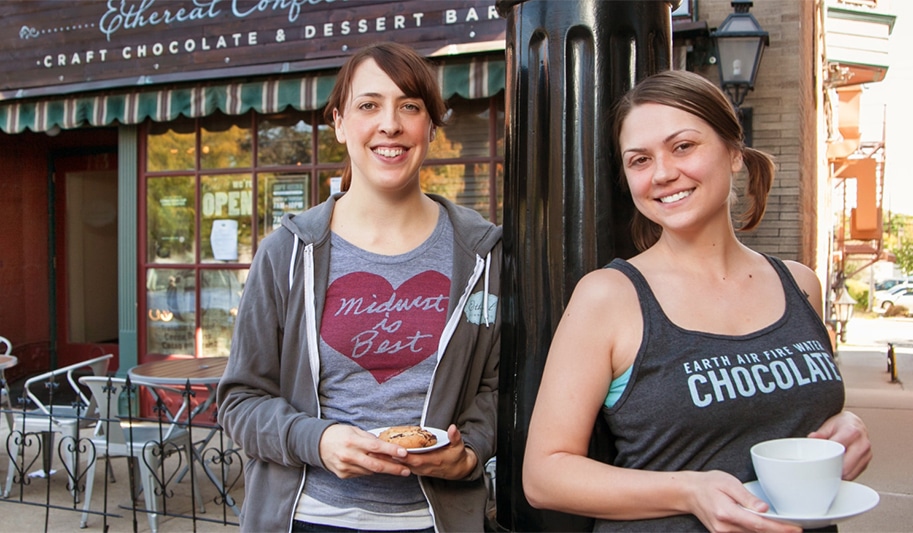 Mary Ervin and Sara Miller are aiming to put their chocolate, and Woodstock, on the map.
The term "Real Woodstock" is more than a headline or a marketing theme. It represents a spirit of creativity, of independence, and an authentic sense of community.
The owners of Ethereal Confections, Mary Ervin and Sara Miller, are terrific examples of "Real Woodstock". Not only do they celebrate "local", they are spreading their chocolate—and the Woodstock name—around the world. More than 200 stores across the U.S., Canada and Mexico sell their product, and they ship all over the world via their web site.
Says Ervin: "Our long-term vision is to be a positive force, and to bring delicious and sustainable products to the world."
The chocolatier opened on the Woodstock Square nearly five years ago with the goal of creating foods that are fresh, flavors that are versatile, and chocolate that is crafted by hand. Today, their café, located across the square from their first shop, is a community gathering spot morning, noon and night. In addition to the chocolate—made by hand on premise—Ethereal offers coffee, tea, baked goods, small appetizers, lunch, and cocktails, beer and wine in the evening.
Ethereal's chocolate, which includes such varieties as truffles, bars, barks and meltaways, is made with the freshest ingredients; Mary and Sara import chocolate cocoa beans from Central and South America. Ethereal Confections' chocolate is roasted and uniquely prepared, creating flavors that no other chocolate store can make.
"We strive to only use organic ingredients in our confections, purchasing these locally whenever possible. In this way, the greatest thing we do is make real products from genuine ingredients while at the same time, supporting our local community and other small businesses," says Miller.
Ethereal Confections is open Sunday-Tuesday from 7am-10pm, and Wednesday-Saturday 7am-Midnight. Visit Ethereal's website to learn more about their products and events.