Holiday Happenings in Woodstock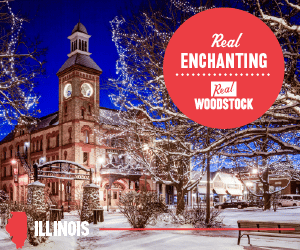 November, 2022
Woodstock, Illinois
Real Woodstock, the Woodstock Area Chamber of Commerce and Industry and the City of Woodstock announce the Winter in Woodstock Holiday plans and programs for the 2022 season.
Winter in Woodstock is full of wonder.  Recently named the one of the "Most Enchanting and Magical Christmas Towns in Illinois" by Only in Illinois, the 2022 holiday season will live up to that distinction once again.
The unofficial kickoff to the holiday season will happen Sunday, November 13th with the launch of the Legend of the Pickle Scavenger Hunt. Members of the Kraft Heinz Claussen Pickle team will be handing out jars of cold Claussen Pickles.  Woodstock Willie and the Woodstock Pickle will both be in attendance taking pictures and sharing pickles.  Hunters have until December 12th to search out pickles hidden in Woodstock shops and restaurants.  Turn in your game card for a chance to win an iPad and other great prizes.
The annual favorite, Lighting of the Square, will once again happen in the heart of Woodstock and we couldn't be more excited.  On the Friday after Thanksgiving, November 25th, gather with friends and family on the Historic Woodstock Square starting at 4:00 p.m. to enjoy the selfie spots, food trucks, carolers and Santa.  At 7:00 p.m. the ceremony will begin on the Dr. Brian Sager Bandstand, followed by the famous Flip of the Switch.  Activities will go till 8:00 p.m. this year.  Lights in the Square remain lit until our Groundhog Days Festival in February 2023.
Small Business Saturday is more than one day in Woodstock, but we pull out all the stops on November 26th with a live Star 105.5 broadcast from 10:00 a.m. to noon.  Local shops will be running great holiday specials all day and Real Woodstock will be giving away tickets to an upcoming Chicago Wolves Hockey game and Theatre 121's production of a Christmas Carol at the Woodstock Opera House.
The annual Woodstock Christmas Parade rolls through town on Sunday, November 27th beginning at 2:00 p.m. with its expanded route.  Area groups, businesses and residents are encouraged to sign up and participate.   Details and map can be found at realwoodstock.com
Cookies and Churros with Santa combines two great traditions in Woodstock on Sunday, November 27th immediately following the Woodstock Christmas Parade, approximately 3:00 p.m. at Flores Banquets 240 North Throop Street.  Sponsored by the City of Woodstock, Woodstock Area Chamber of Commerce and Industry, Hispanic Connections and more; the public is invited to enjoy free cookies, churros and milk, as well as a visit and picture with Santa Claus.
Ladies Nite Out happens Thursday, December 1st with late hours and lots of fun shopping deals. Shopping specials and event bags are available for all attendees, courtesy of Studio D Jewelers.  Sip while you shop from 4:00 to 9:00 p.m. with the purchase of a Ladies Nite souvenir event cup.  Ladies Nite Out is free to attend, or enjoy an enhanced experience with a VIP pass that includes a special reception at Home State Bank.  Find details at realwoodstock.com
Shop, Save & Win continues in its third year and will again include dining.  Funded by the City of Woodstock and coordinated by the Woodstock Area Chamber of Commerce and Industry and Real Woodstock, the expanded "Shop, Dine, Save & Win" program is, at its heart, one that gives back to the community.  Running November 25th through December 31st the Shop, Dine, Save & Win Holiday Program is intended to stimulate retail sales in Woodstock, save you a little money on your purchases, and reward you for shopping and dining at our local small businesses with a chance to win cash prizes to share with your favorite small independent retailers and restaurants.  Please visit the WACCI website for details and list of eligible businesses.