Woodstock Harley-Davidson Fosters Independent Culture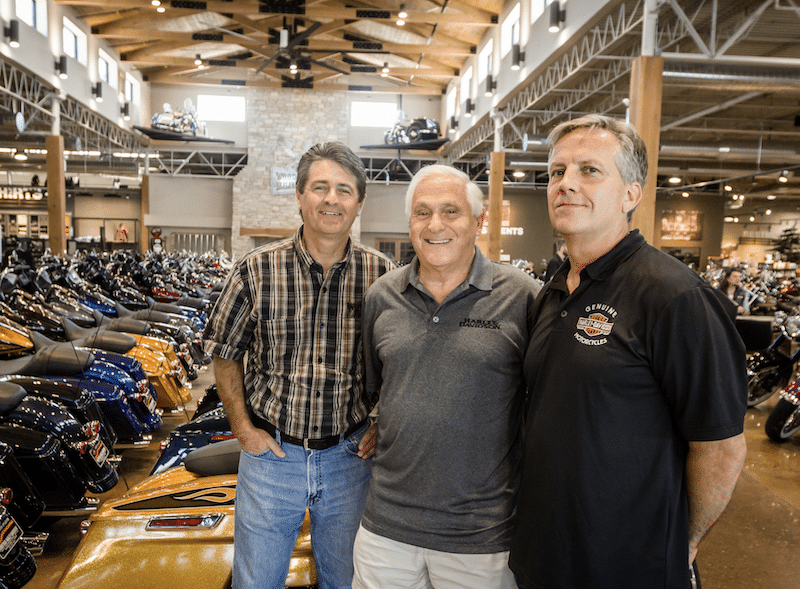 Real Woodstock is about embracing your independent streak. Freedom. Passion. Sounds a lot like the Harley-Davidson brand.
It's hard to find anyone with more passion for motorcycles than Doug Jackson, co-owner and general manager of Woodstock Harley-Davidson (located at 2235 S. Eastwood Dr. off Route 47).
Along with his partners Arnold Horwich and Tracy Lancaster, Jackson believes the Harley motorcycle and brand create community.
"Most people want to be a part of something cool, raw and authentic," says Jackson, who has been in the motorcycle industry nearly 40 years. "Harley riders bond over having that independence, that free spirit."
Jackson says Harley and Woodstock share such qualities as an independent streak and a strong customer service ethic.
When he and his partners made the decision to move to a new location just south (and across the street) from their old home on Route 47, he says the city was "nothing less than terrific helping us with this building." At 100,000 square feet, the new location is three times the size of the old spot on 47 and Route 14.
"Woodstock has a small community-type feel. It's hometown. You can call the mayor and the city manager and they're great people," Jackson says. "There is a passion in this community you don't see everywhere.
"It's the way I want our customers to feel when they come in. We made a bigger investment than most would. We're out in the country with a big building that has a country feel like Woodstock."
The dealership has grown to be one of the country's most successful, consistently ranking in the top 20 dealerships in bike sales, and in the top five in service year after year. The secret: the relationships they forge with their customers.
"We draw customers from really far away because of our service department; If you do a great job servicing the bike, you earn the opportunity to get people to buy another bike from you. You earn their trust and respect."
Jackson emphasizes that the relationship doesn't end with buying and servicing a bike from Woodstock Harley; they have created a culture that brings the motorcycle community together at their monthly events. Events draw big crowds and enthusiastic participation, such as Little Angels Annual Pledge Run, a motorcycle ride fundraiser for children and young adults with severe disabilities and complex medical needs, and the Annual Patriot Ride, which benefits Honor America's Valor and the Marine Corps League of IL.
Woodstock Harley's upcoming "Open House For Law Enforcement" on Sunday, November 6 will take place from 3:00 pm to 6:00 pm. Designed to show support for law enforcement, the event includes car safety checks, a K9 demonstration and more.
"We have added events and group rides that support great causes meaningful to Woodstock and the motorcycle community. That's what is awesome about motorcyclists – they are real authentic people. It's as raw as it gets."
Jackson loves Woodstock and the connection between Harley and the community. "You go to the Woodstock Square and the people are welcoming – you don't see that everywhere."
"You can actually feel and see the energy in the community. It just feels right."